How to use Google Ads Free Credit
How to use Google free ads Credit Rs: 2000
How to use Google free ads Credit Google gives us Rs: 2000 for free Ads Credit This free ads coupon comes to us in Gmail and comes to almost everyone who has Gmail. You can see what that coupon looks like in the screenshot below.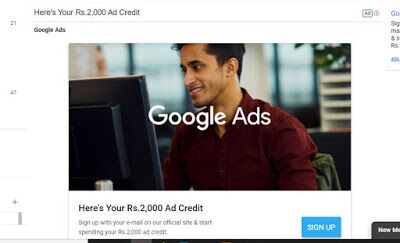 How these Promotion coupon works mean that if we run ads for Rs. 2000 in 30 days, Google will give us Rs. 2000 in return in our google AdWords account. Those who use AdWords will know this. Those who do not use AdWords do not know this, Some people think they can do advertising by entering only coupon codes but that is not the case.
How to use Google free ads Credit For example, If you run 1000 ads, within 30 days Google will credit you back only 1000 rupees in your AdWords account. Essentially 2000s ads should be done in 30days. Definitely, must-run ads will not be credited without running ads. Another thing is that these coupons are sold online because Google does not give this offer every time some people buy online when there are no offers.
Let's also learn how to use that coupon Go to Google search and type google ads The google ads link appears first. Click on the link and you will see the screen as shown in the screenshot below. You will see something like this on that screen. start today get up to Rs: 2000 in ads credit Below you will need to enter your email id and login, You will receive an email as soon as you log in In that mail you will have the coupon code and copy that code, Go to Google AdWords and click on "Billing and Setting" option.
When you open Google AdWords you will see the left side "Promotion Code" copy coupon code paste there Then run ads first with the money in your account. If you run 2000 in 30 days, Google will add 2000 back to you.